Below you can find the race car timeline of Formula Electric Belgium from newest to oldest, along with their technical data.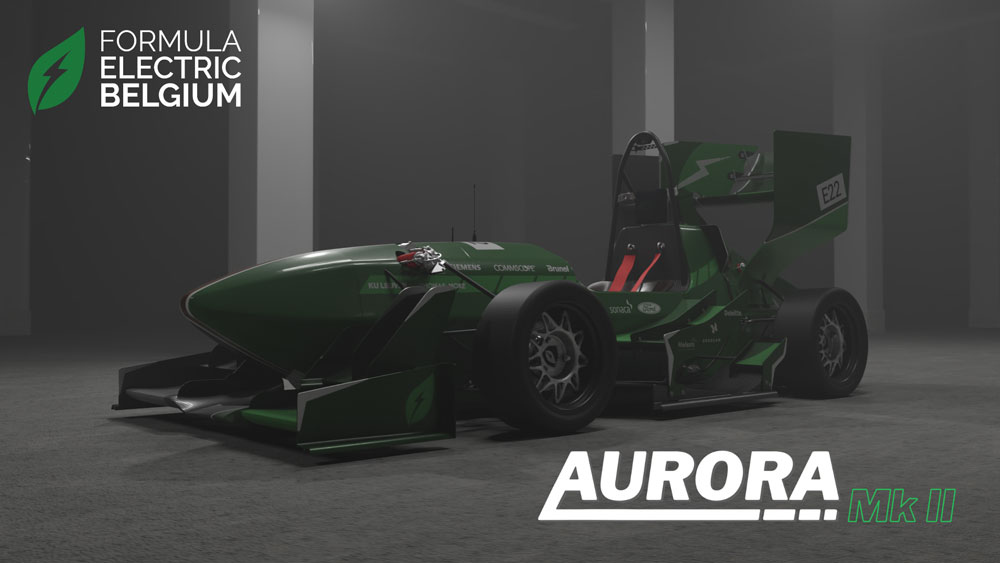 Check out our latest addition to the family, Aurora Mk II.
Want to know more? Take a look at the full video on YouTube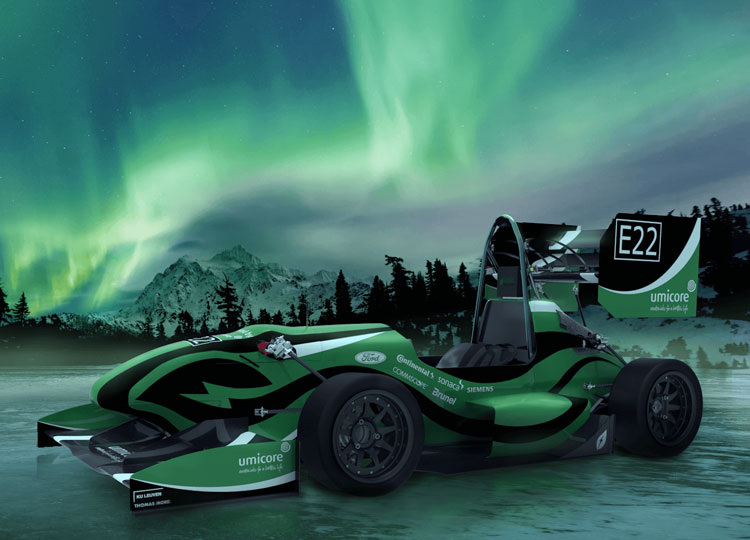 Umicore Aurora is the 6th electrical racecar from Formula Electric Belgium. Aurora is the first car to feature semi-active suspension. This means that it has an unlimited amount of damping constants, that can be changed instantaneously. This results in a vehicle that can optimize it's behaviour for each part of the track and create the most grip at all times.
Furthermore it features 4 self designed motors, a completely reworked telemetry system and 3D printed uprights.
Due to Covid-19. Aurora was never fully completed. However, all was not lost. The core components were reworked and reused in Aurora MkII.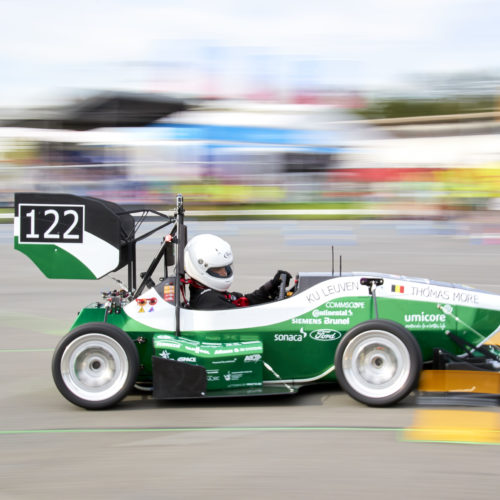 The Umicore Eclipse is the 5th electrical racecar from Formula Electric Belgium. It  has a full carbon fibre monocoque and aero package that is produced in-house. Both aspects are reworked form Umicore Pulse, to create an overall stiffer end result.
Four electrical inwheel motors with a redesigned planetary gearbox and an even lighter and stiffer aluminium upright provide the car with 145 Kw of power. 
Umicore Eclipse also features an innovative suspension design made to independently control roll and pitch. Using a heave spring-damper, a torsion spring and a seperate roll damper, each wheel input is independently transferred to the corresponding system using kinematic ratios. This allows the suspension of the car to be finetuned for each specific scenario providing the most grip possible.
All electronics in the car have been designed with reliability and data logging in mind.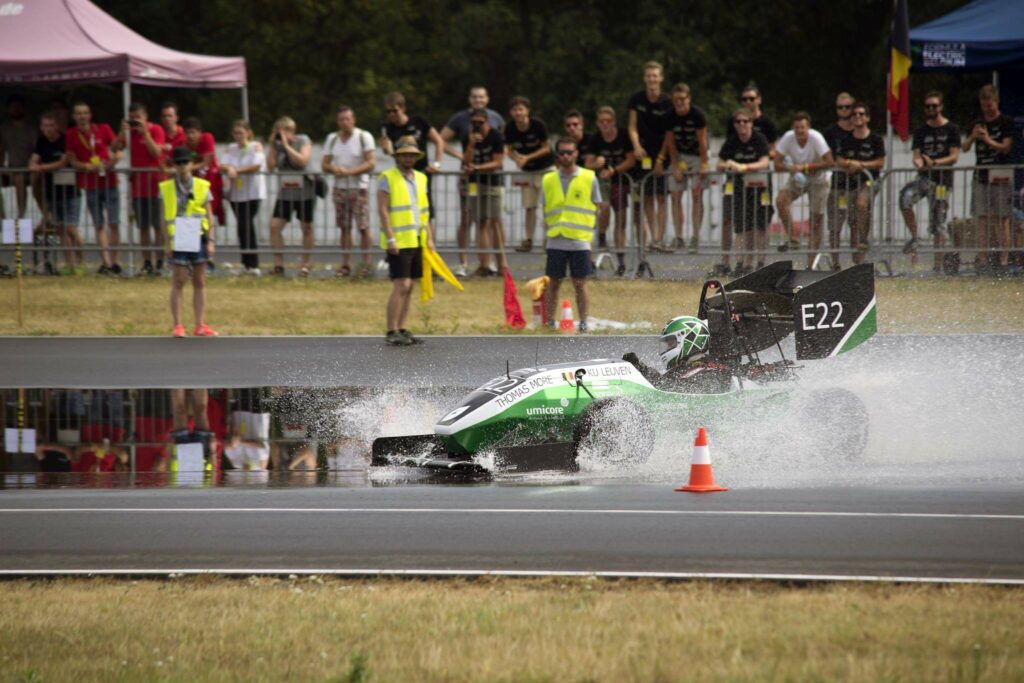 Pulse is the fourth car built by Formula Electric Belgium, the second one using four inwheel motors. Based on the design of Nova, improvements have been made to optimise the inwheel gearbox.
As its brains it has a completely self-built ECU which runs a Real Time Operating System. Furthermore, Umicore Pulse is the first car containing a telemetry system. This allows us to transmit, store and post-process all relevant vehicle data. Using this information, we can keep improving the performance of the car. 
Combined with a completely revamped cableloom, the result is a lot of data to be analyzed.
Lastly the aerodynamic package has been completely redesigned to give us more downforce and grip.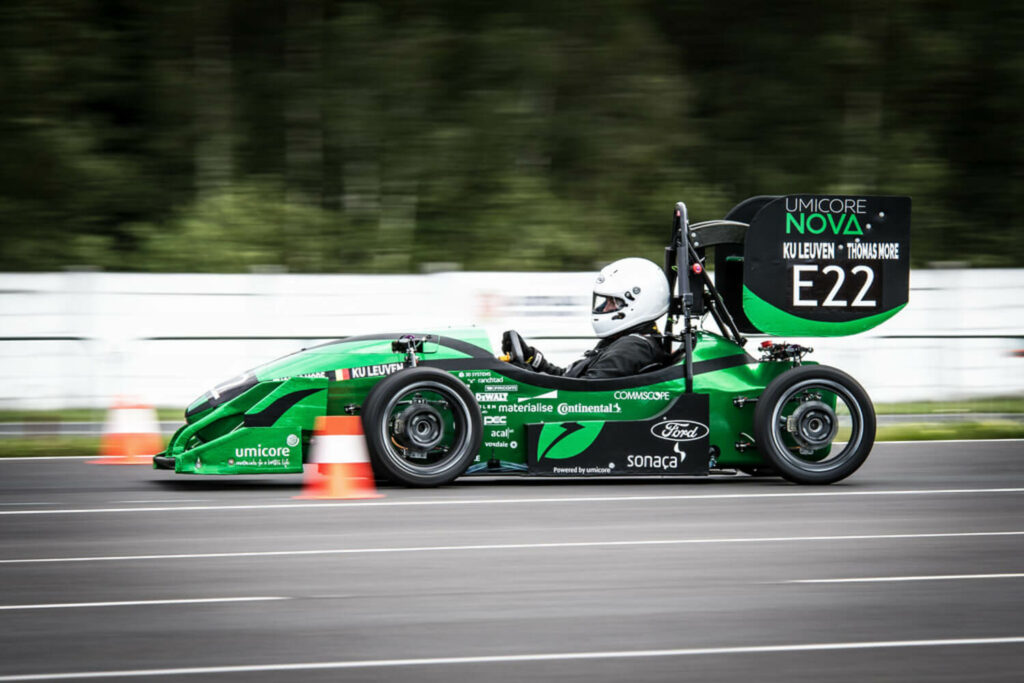 Nova is the third car built by Formula Electric. It is the first four wheel driven car.This required a complete redesign of the powertrain in comparison to Isaac.
Using 4 AMK-motors, one in each wheel, and a planetary gearbox mounted in each upright, we can get a combined power output of nearly 200 bhp. To cool down all this power, each motor is surrounded by a 3D printed aluminum cooling jacket, providing the most optimal cooling.
With 4 motors, Nova is able to apply torque vectoring. By controlling the power output for each wheel individually, Nova can precisely determine the mechanical grip of each tire, thus improving the cornering and acceleration capabilities. 
Furthermore Nova has a single piece monocoque, and an adjustable suspension system. The power comes from a modular battery system containing 9 independent modules. All this results in a weight reduction of 13 kg compared to the precious year.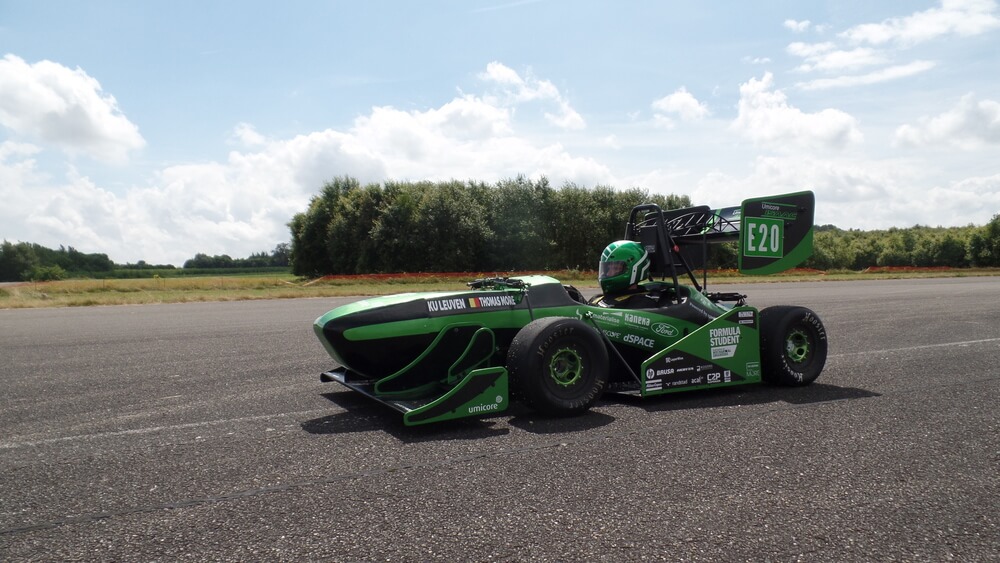 Umicore Isaac is the second car built by Formula Electric.
It features a single piece carbon fiber reinforced polymer monocoque, self designed electric motors, a full aero package, carbon fiber 10 inch rims and a fully adjustable, lightweight suspension system.
Nowadays, Isaac lives a second life as a race simulator with the ultimate goal of testing concepts in the simulator and analysing the behaviour.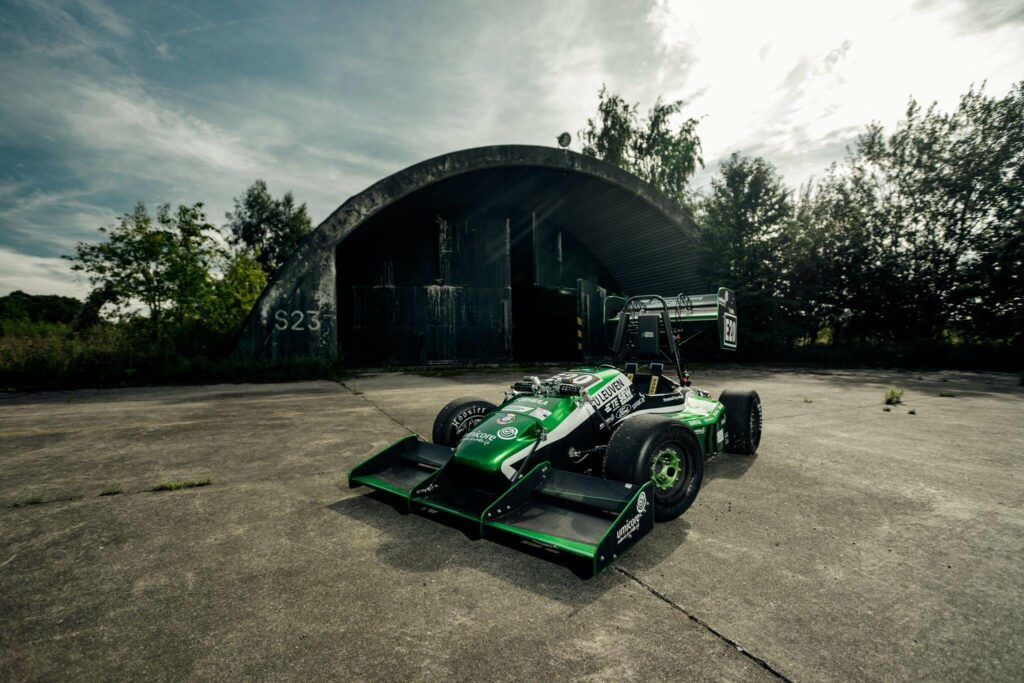 Umicore Luna is the first car ever built by Formula Electric Belgium, the collaboration between Formula Group T and Thomas More Innovation.
This combination allowed the newly found team to produce their own electric permanent magnet motors, specifically made to fit their needs.
Umicore Luna was also the first car to have an aero package to create more downforce.
The team also made the step to self designed carbon fiber 10 inch rims that further lowered the total weight of the car.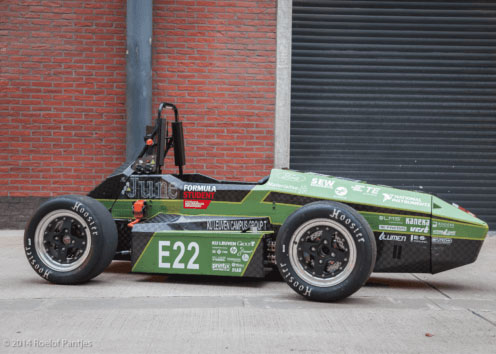 June is the third car developed by Formula Group T. This car features the first ever carbon fiber monocoque. Furthermore, the team produced a custom planetary gear box, focusing on making it as lightweight as possible and being able to reduce the weight of the transmission by 75%. This resulted in a significant weight loss of 30 kg compared to its predecessor Eve.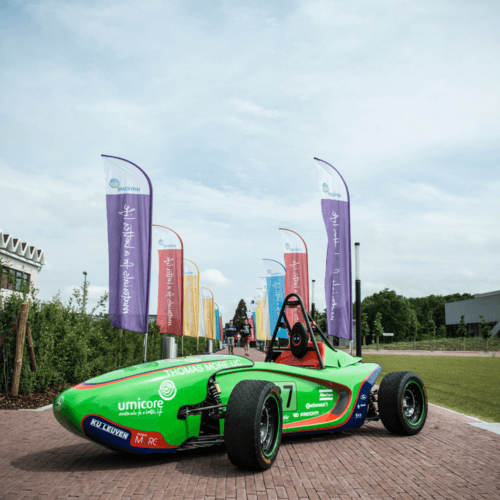 UTM II is the third car by Thomas More Innovation, It features a steel tubular spaceframe with flax fiber bodywork.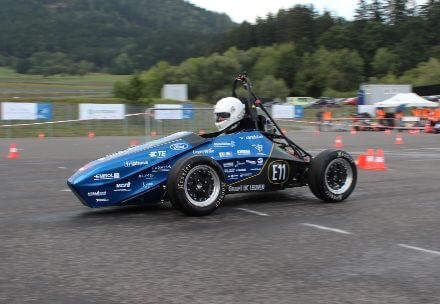 Eve is the second car developed by Formula Group T. The car had the same basic concept as the previous car, but introduced a wide variety of new systems, solutions and improvements. The innovations on the car include a new gearbox, titanium printed uprights, 3D-printed air intake duct and a carbon fiber battery casing.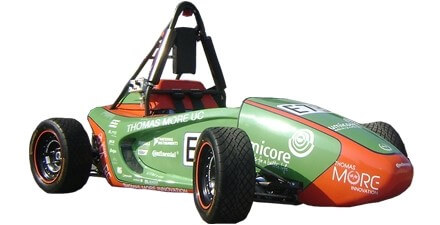 UTM I is the second car built by Thomas More Innovation, It was designed to be smaller and shorter than the previous one. The goal was to design a more ambitious car, with less room for error and tighter space to work with.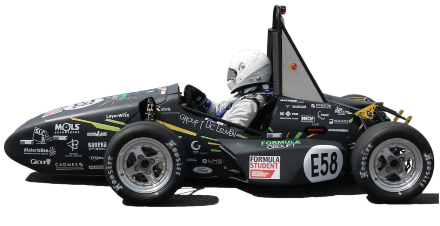 The name Areion comes from Greek mythology, it is an immortal, strong and swift horse. Strong, swift and immortal are exactly those characteristics the team wanted to achieve with Areion. A fast, agile car which will set history in the future of Formula Group T.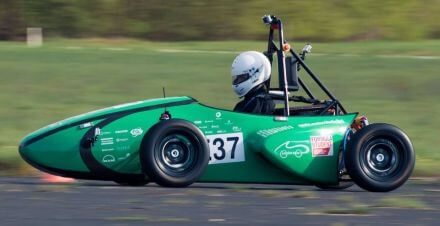 The LRT 02 features a fully electric drivetrain, a steel tubular space frame design and a body of flax fiber.